It is hard to believe that today is my last day here. The last three weeks have felt like a life time, leaving me with so much to think about. I still have a long trip ahead of me, but in all honesty, all I want to do is to go home now and start working in my studio. I entered into this experience expecting to make so much work, but in reality, my experience has been mostly reflection and observation. Now I feel this itch to create; to return to a familiar place where I feel settled and to start to work again. In a week and a half, I will be home. Until then, I have another journey ahead of me. 
This place has transformed dramatically in the last week. The program coordinator returned to the museum with a wave of residents. Now, the museum and its surrounding houses are full of life. What has been silent and empty for the last two weeks is now alive. A group of musicians are in one house, they will be here for a week and are performing a jamboree in the concert hall. Two families have also arrived, with their children who run around from house to house. There are two artists from Denmark as well, working as a collaborative team. We have a big community meal three times a day- we spend a large part of the day together, but also function in our own bubbles. Everyone is working on a separate project, we just commune during meal hours. 
This new community and the heat wave that continues to hit Denmark (it reached 90 degrees yesterday!) has made the last week fly by. It is a nice way to conclude my time here, and I am curious how my experience would have differed if it had been like this all along, rather then after I installed my show and was preparing to leave. My first two weeks here were such a different experience then this week has been. 
left: While dinner is being made, we all share a workspace in the main house.
Leaving here, there are two influences that I most want to take with me. The first is the woods that lay behind the museum. They are the only accessible wilderness in the northern Jetlands, and the only reason they are here and have not been turned into a cornfield is because they are part of the museum land. Every morning, I go for a long run in the woods. It is the best part of my day. I am alone in the woods and I feel safe and sheltered from the uncharacteristically harsh sun and the flat, empty landscape. Perhaps I like the woods best because they feel the most like home. But unlike the forests in California and Norway, the woods here are flat. I am able to run for miles, peacefully.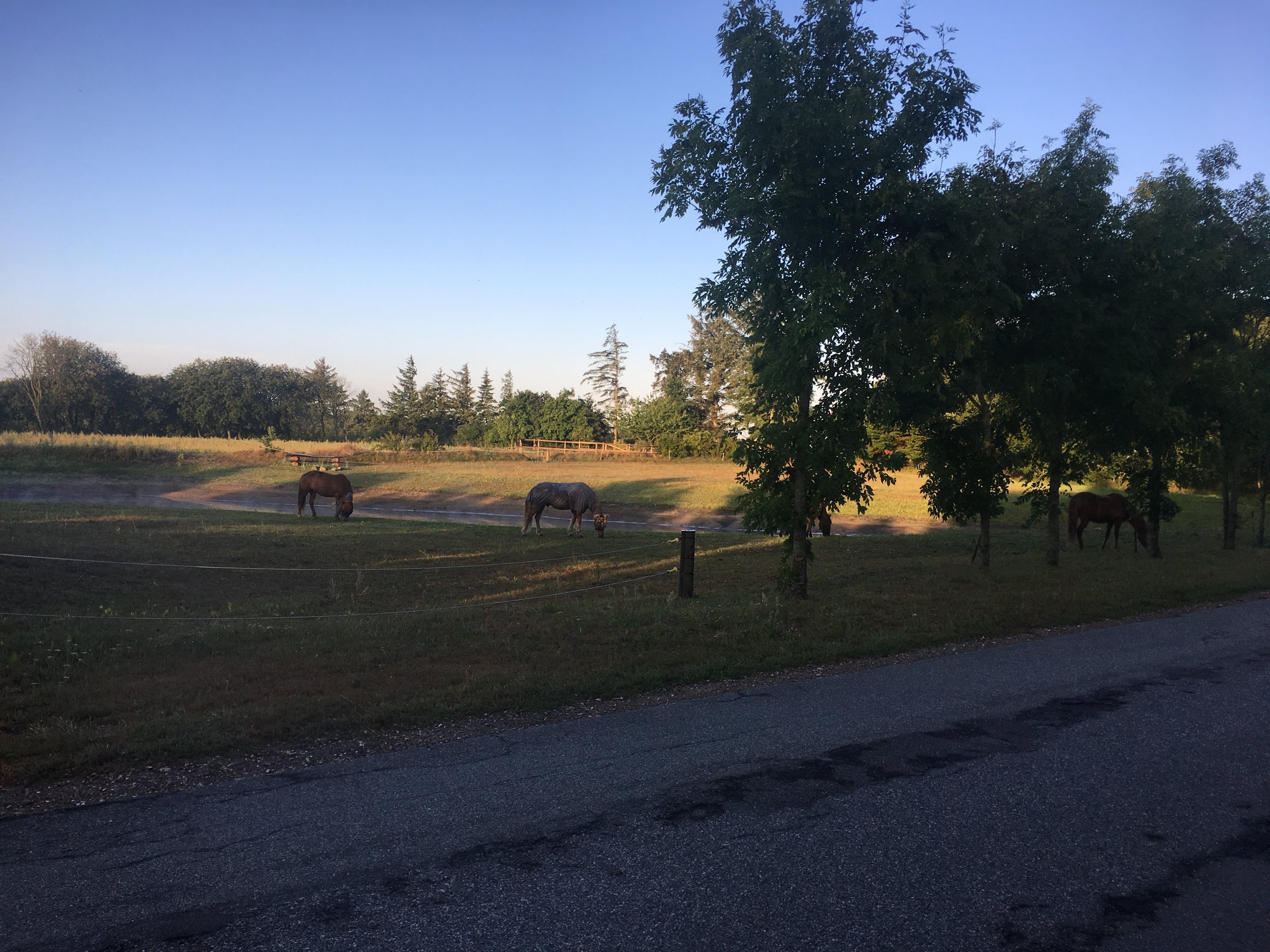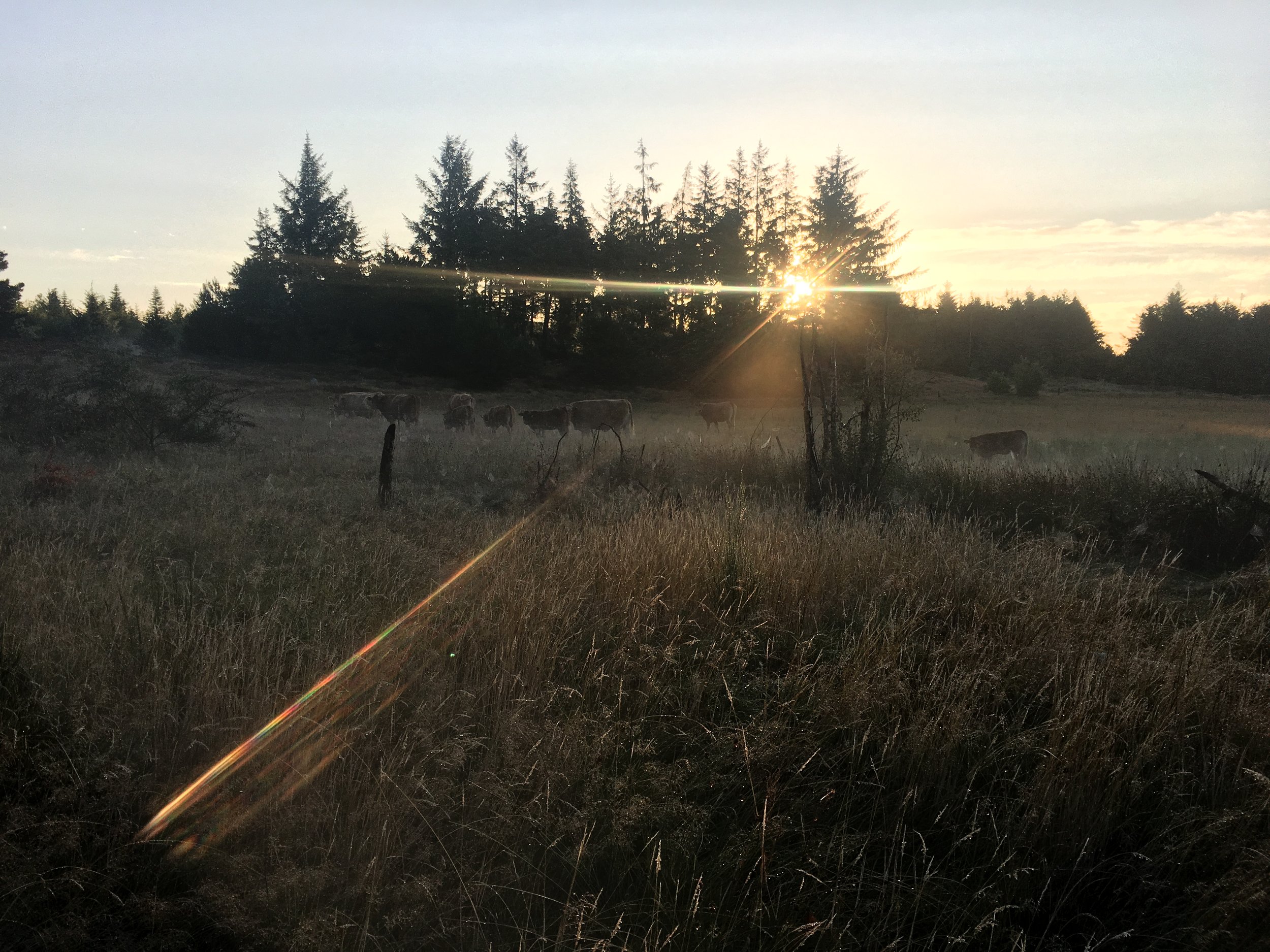 On my last day here, I woke up early and saw the most beautiful, dewy sunrise as I ran through the woods.
After my run I have a coffee from the museum kitchen, stretch slowly, and then walk down the long, tree lined path back to my house. I pick basil, cucumbers, beets, tomatoes and kale from the garden. Along my walk I snack on fresh berries, plums and apples that grow on the trees and bushes. 
The garden and the community that surrounds it is the other piece of my time here that I will always remember. It is one of the reasons I came here in the first place- the agriculture.
There was a stretch of time in the middle of my stay where I didn't see anyone for close to a week. Because my visit fell during the summer holiday, my first two weeks were very lonely. I spent a lot of time in the garden, picking food and then preparing elaborate meals. This memory stands in contast to how the garden was used last week, when the house  was full and we all came together nightly to make elaborate meals. Every night we would leave the garden baren, and to my surprise, every morning new zucchini and cucumber would pop up, raspberries and tomatoes would ripen, basil leaves would appear and a new row of beets would push their heads out of the soil. 
The garden and the kitchen were the center of our community.
We made zucchini lasagna on Sunday night, With layered, overgrown squash and tomatoes from the garden. In the morning, everyone would leave and the museum would return to the quiet place it had when when I first arrived. It was so wonderful to be a part of this magical, lively week.
The farming culture outside of the museum functioned on trust, just like most things in Denmark- kids are left outside of restaurants (in the cities), cars are left unlocked and here, in this empty place, you do not need to interact with anyone to buy produce. Like the museum cafe, you could pick up fresh produce from local gardens and farms without talking to or seeing anyone. You leave a few Kroner in a small dish and pick up what you need. The only proof that anyone else is there is the replenishing of product. You don't see anyone, but you see that people have been here. This trade system leaves me conflicted- it is a system that function on trust, which is such a key part of community, but it also creates isolation and anonymity. It perfectly sums up this place. 
Looking back at my time here, I feel some nostalgia for my last days here, but I am very ready to leave. I have lived in many cities, all over the world, but this is the first time that I have felt so alone while traveling. What I want most now is to be with the people I love and to take a chunk of time to reflect and process this trip and to prepare for my next experience. 
I woke up early in the morning and said goodbye to the Jetland and my temporary home before my 7 hour journey to København. After so many dry, long days, there was a new, dark energy in the air.
I spent one day in København before flying to Bergen (home). I will travel from here to New York (home), Oakland (home) and Boston (family and friends) before going to Iceland for my second residency, at H-I-E-M-A in Seydisfjordur. It is important to me that I see the people I love before I head out on my next adventure. This post grad period is so transformative and I don't want to forget where I'm from. I hope I can see all of you while I am in one of my many homes.